'My world is finished'
The Rohingya people have been systematically attacked. They have been murdered, raped and had their villages burned to the ground by Myanmar's military. Here, with testimony, photos and satellite images, Amnesty International presents the world the evidence.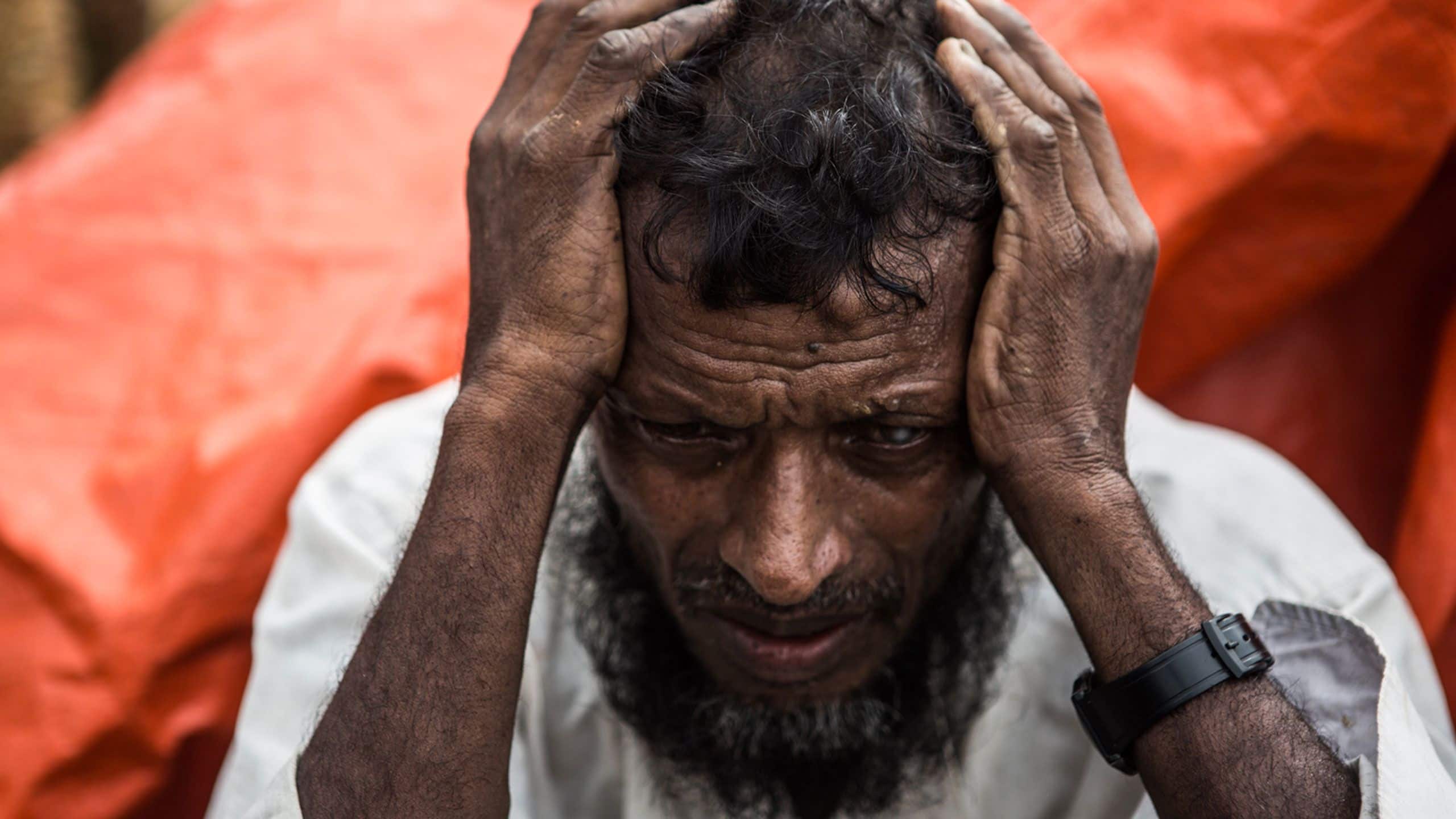 Abdul Amin, 55, is a Rohingya refugee from Tha Win Chaung, Maungdaw Township. © Andrew Stanbridge / Amnesty International
Abdul Amin, 55, is a Rohingya refugee from Tha Win Chaung, Maungdaw Township. © Andrew Stanbridge / Amnesty International
This page contains distressing photos and details.
Since the end of August 2017, the Rohingya population in northern Rakhine State has been subjected to systematic, organized and ruthless attacks. The Myanmar Army, often working with the Border Guard Police and local vigilantes, has killed hundreds of women, men and children, raped women and girls, and burned entire Rohingya villages to the ground. They have also laid inherently indiscriminate landmines near the border with Bangladesh, killing and injuring civilians.
More than half a million Rohingya have fled from their homes in Myanmar into neighbouring Bangladesh. More cross the border every day.
The Myanmar military's atrocities followed attacks on security posts in late August by a Rohingya armed group, the Arakan Rohingya Salvation Army (ARSA).
The military's response has been to attack the population as a whole, and is both systematic and widespread, so that it constitutes crimes against humanity under international law. The head of the Office of the UN Commissioner for Human Rights has called it "a textbook example of ethnic cleansing".
"In this orchestrated campaign, Myanmar's security forces have brutally meted out revenge on the entire Rohingya population of northern Rakhine State, in an apparent attempt to permanently drive them out of the country. These atrocities continue to fuel the region's worst refugee crisis in decades."
Amnesty International has conducted more than 120 interviews with Rohingya men, women, and children on both sides of the border, investigating and documenting the attacks. Most incidents have been corroborated by multiple, independent witness accounts, satellite imagery and authenticated photographs and video footage from inside northern Rakhine State. What follows is some of the evidence.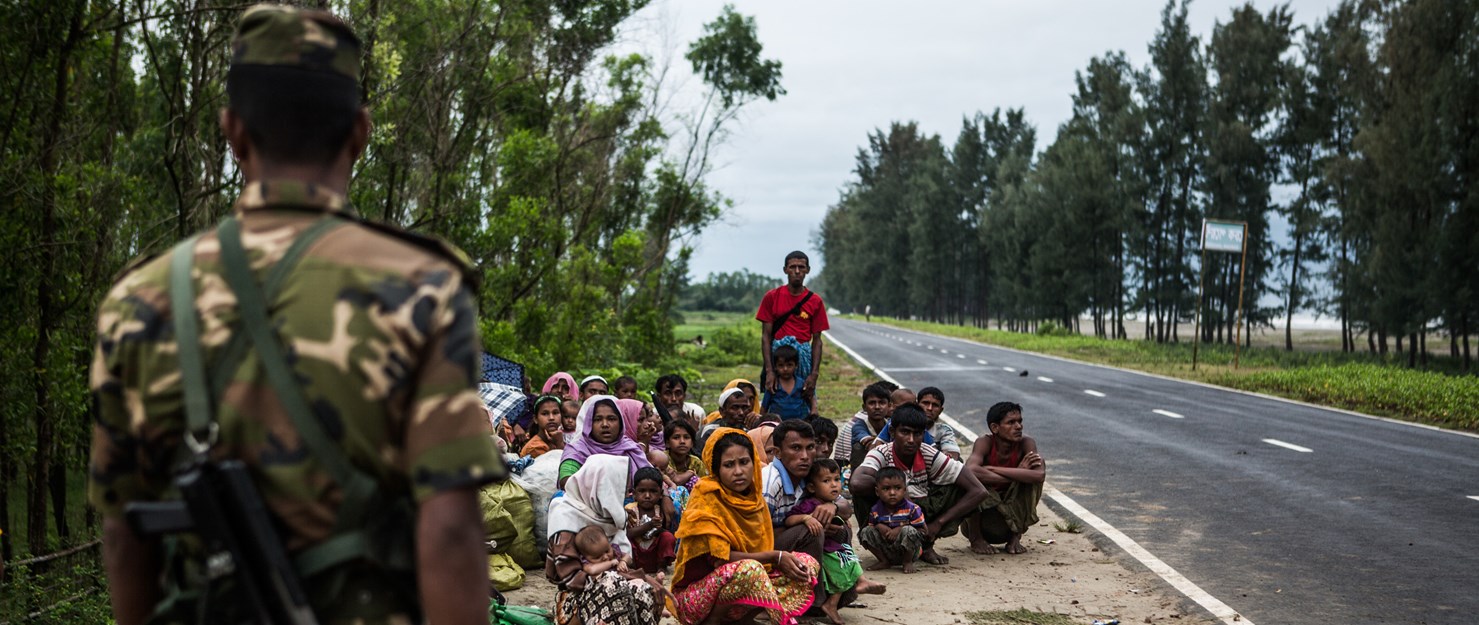 © Andrew Stanbridge / Amnesty International
© Andrew Stanbridge / Amnesty International
The Rohingya is a predominantly Muslim ethnic minority of about 1.1 million living mostly in Rakhine State, west Myanmar, on the border with Bangladesh. Though they have lived in Myanmar for generations, the Myanmar government insists that all Rohingyas are illegal immigrants from Bangladesh. It refuses to recognize them as citizens, effectively rendering the majority of them stateless.
As a result of systematic discrimination, they live in deplorable conditions. Essentially segregated from the rest of the population, they cannot freely move, and have limited access to health care, schools or jobs.
In 2012 tensions between the Rohingya and the majority Rakhine population – who are predominantly Buddhist – erupted into rioting, driving tens of thousands of mainly Rohingya from their homes and into squalid displacement camps. Those living in the camps are confined there and segregated from other communities.
In October 2016, following lethal attacks on police outposts by armed Rohingya in northern Rakhine State, the Myanmar army launched a military crackdown targeting the community as a whole. Amnesty International has documented wide-ranging human rights violations against the Rohingya including unlawful killings, arbitrary arrests, the rape and sexual assault of women and girls and the burning of more than 1,200 buildings, including schools and mosques. At the time, Amnesty International concluded that these actions may amount to crimes against humanity.
An even greater wave of violence was yet to come.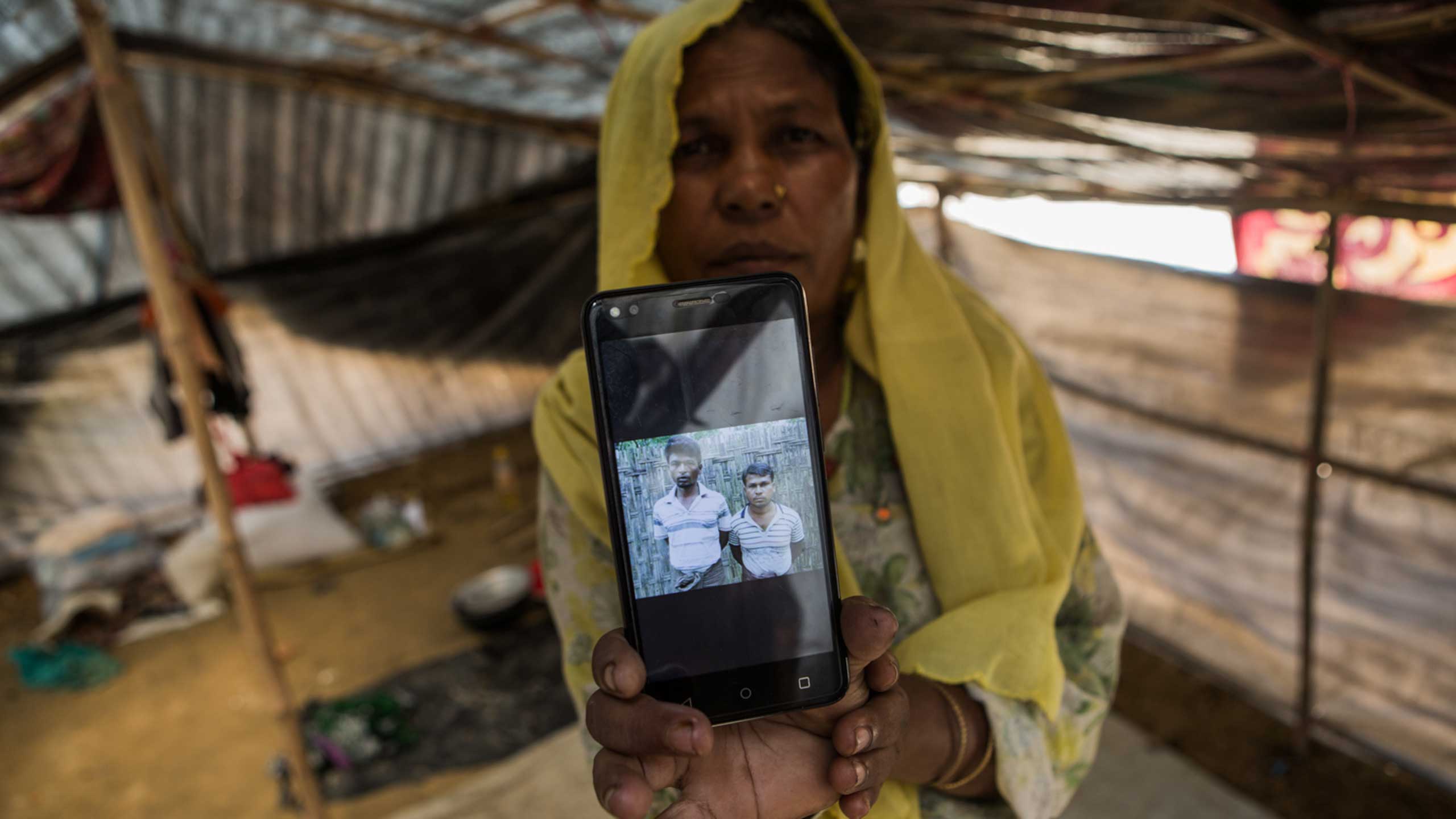 Nur Asha, 56, holds an image of her two sons. Kutupalong Refugee Camp, Bangladesh, 27 September 2017. © Andrew Stanbridge / Amnesty International
Nur Asha, 56, holds an image of her two sons. Kutupalong Refugee Camp, Bangladesh, 27 September 2017. © Andrew Stanbridge / Amnesty International
In the hours and days following the ARSA attacks in August, the Myanmar security forces, sometimes joined by local vigilantes, surrounded Rohingya villages in northern Rakhine State. As women, men, and children fled their homes, the soldiers and police officers often opened fire, killing hundreds of people and seriously injuring many more.
Survivors described running to nearby hills and rice fields, where they hid until the forces left. Some/many elderly people and persons with disabilities who were unable to flee, burned to death in their homes after the military set them alight.
Shara Jahan, 40, told Amnesty International she was at home with her husband and sons in Chut Pyin village, Rathedaung Township, when they saw houses nearby start to burn. The men ran out, but she stayed behind, yelling for her younger children. Her husband, Shabi Ullah, 60, and one of her sons, Ozullah, 20, were shot and killed. She described what then happened to her:
"The roof started burning. Pieces of it fell down, and I was burned. The clothes I was wearing were also burned... I escaped. No one was there to save me. I was there [in the burning house] for very little time. I had this fire on my entire body, on my clothes. I was rolling, rolling toward the rice field. [When I got there], that's when the fire was put out. I rolled in the little water there in the rice field.

I lay in the rice field, until sunset, when we went to [Ah Tet Nan Yar, a nearby village]. They gave us food. Then we walked [for several days] to the boat point and came to Bangladesh. They took me in a vehicle to a clinic for treatment. I was there for 10 days, maybe more.

We lost our children, we lost our husbands. It is very hard."
Amnesty International shared a photograph of Shara Jahan with a forensic medical expert, who said that her appearance and skin discoloration are consistent with her description of serious burn injuries.
Fatima, 12, told Amnesty International that she was at home with her parents, eight siblings, and grandmother when they saw fire rising from another part of their village. she said that as the family ran out of their house, men in uniform opened fire on them from behind. She saw both her father and 10-year-old sister get fatally shot, then Fatima was also hit, in the back of her right leg just above the knee.
"I fell down, but my neighbour grabbed me and carried me," she said. After a week on the run, she finally received treatment in Bangladesh. Her mother and older brother were also killed in Chut Pyin.
Amnesty International sent photographs of Fatima's wound to a forensic medical expert, who said it was consistent with a bullet wound that "would have entered the thigh from behind". Medical professionals in Bangladesh described treating many wounds that appeared to have been caused by gunshots fired from behind – matching consistent witness testimony that the military fired on Rohingya as they tried to run away.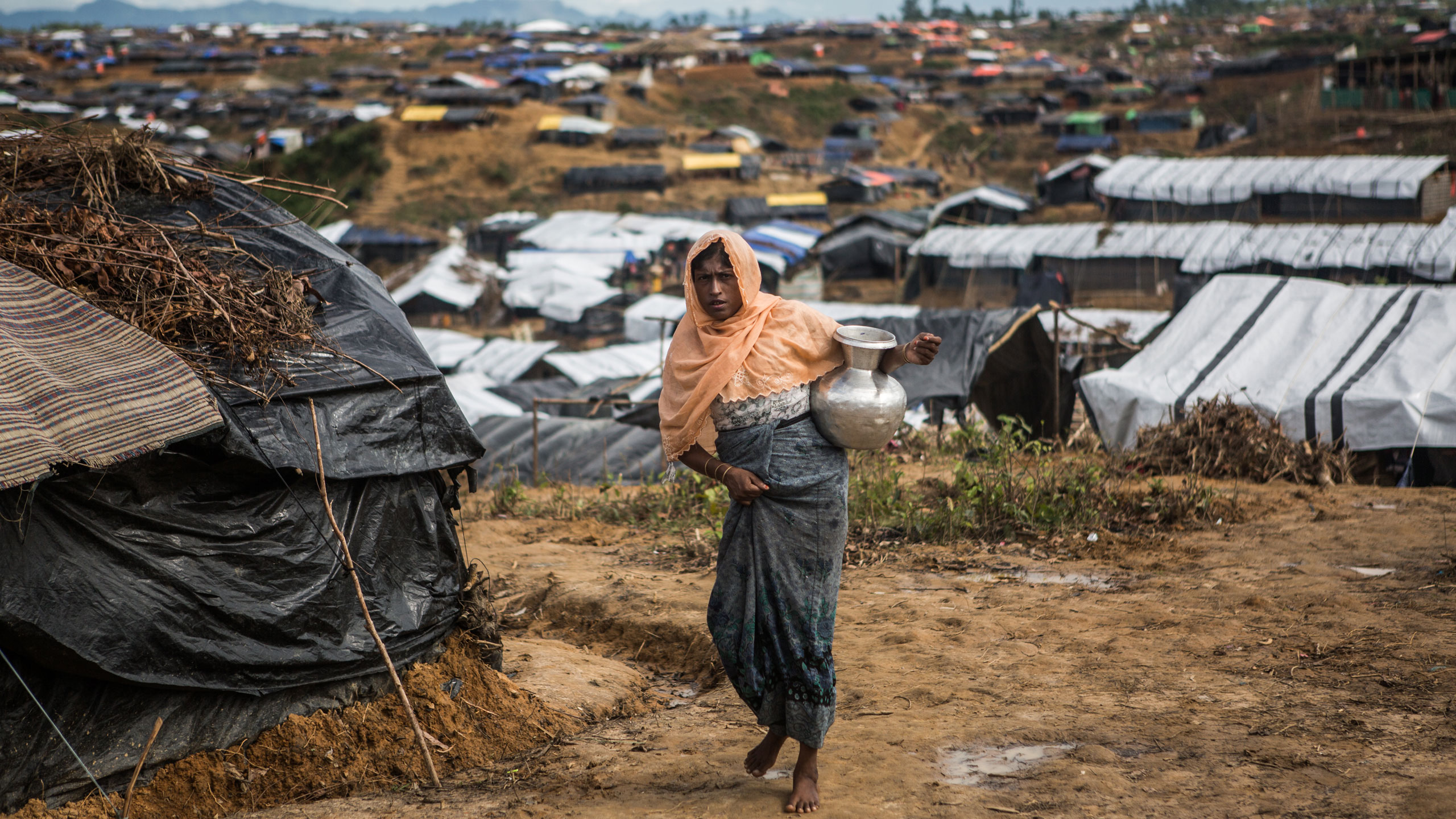 Woman at Kutupalong Refugee Camp, Bangladesh, September 2017. © Andrew Stanbridge / Amnesty International
Woman at Kutupalong Refugee Camp, Bangladesh, September 2017. © Andrew Stanbridge / Amnesty International
Amnesty International interviewed seven Rohingya survivors of sexual violence committed by the Myanmar security forces. Of those, four women and a 15-year-old girl had been raped, each in a separate group with between two and five other women and girls who were also raped. The rapes occurred in two villages that the organization investigated: Min Gyi in Maungdaw Township and Kyun Pauk in Buthidaung Township.
As previously documented by Human Rights Watch and The Guardian, after entering Min Gyi (known among the Rohingya as Tula Toli) on the morning of 30 August, Myanmar soldiers pursued Rohingya villagers who fled down to the riverbank and then separated the men and older boys from the women and younger children.
After opening fire on and summarily executing at least scores of men and older boys, as well as some women and younger children, the soldiers took women in groups to nearby houses where they raped them, before setting fire to those houses and other Rohingya parts of the village.
S.K., 30, told Amnesty International that after watching the executions, she and many other women and younger children were taken to a ditch, where they were forced to stand in knee-deep water:
"They took the women in groups to different houses. …There were five of us [women], taken by four soldiers [in military uniform]. They took our money, our possessions, and then they beat us with a wooden stick. My children were with me. They hit them too. Shafi, my two-year-old son, he was hit hard with a wooden stick. One hit, and he was dead… Three of my children were killed. Mohamed Osman (10) [and] Mohamed Saddiq (five) too. Other women [in the house] also had children [with them] that were killed."

"All of the women were stripped naked…They had very strong wooden sticks. They first hit us in the head, to make us weak. Then they hit us [in the vagina] with the wooden sticks. Then they raped us. A different soldier for each [woman]."
After raping women and girls, the soldiers left and set fire to the houses, killing many of the victims inside.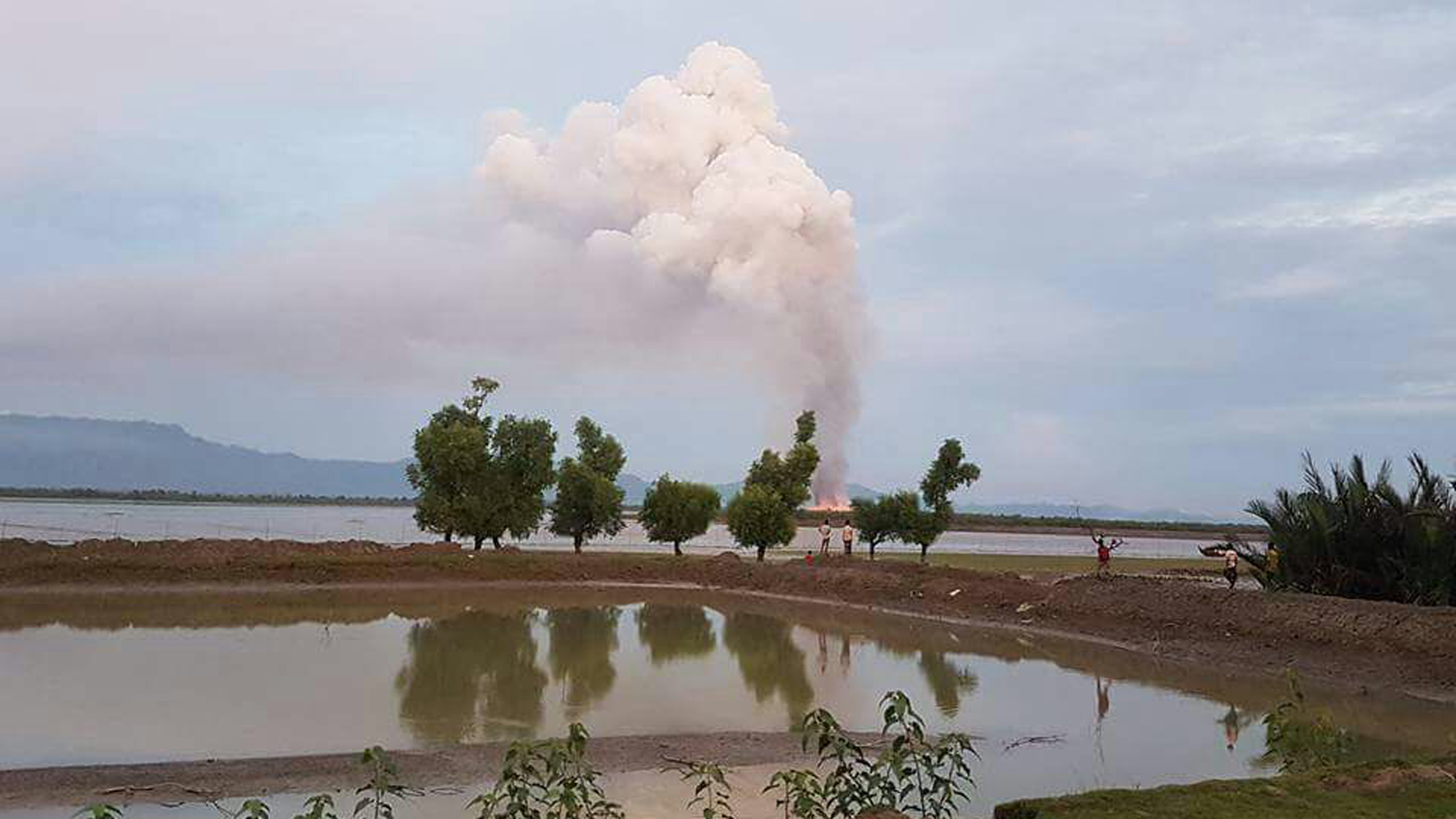 Burning villages inside Myanmar as seen from southern Bangladesh in September 2017. © Amnesty International
Burning villages inside Myanmar as seen from southern Bangladesh in September 2017. © Amnesty International
Aerial photographs and satellite imagery show highly targeted burning of villages and areas within villages. Certain areas can be seen to have been burned while other areas remain untouched. Witness accounts corroborate that it is overwhelmingly the Rohingya areas that have been burned, while non-Rohingya areas are left intact..
Chein Kar Li was attacked on 25 August when it was encircled by the Myanmar military who opened fire on it and burned it. Some villagers who have spoken to Amnesty International told how they fled to the hills.
In Inn Din, for example, satellite imagery shows that while large swathes were systematically burned, other areas are undamaged. These areas have a different layout and type of building, including more organized thatch and metal-roof structures, which suggest they are non-Rohingya. In Inn Din, a Buddhist temple is visible in the unaffected area.
The burning often happened over days, as the perpetrators worked to ensure that every last structure in the Rohingya area was torched. Satellite imagery from Kyein Chaung, for example, shows that large areas were set on fire prior to 16 September, but that a particular stretch along the river remained untouched. By 22 September, these areas had been burned down.
Amnesty International interviewed several people from Kyein Chaung who described fleeing the first round of the military's burning, which they said occurred at the end of August or the start of September.
Satellite image monitoring by the UN Operational Satellite Applications Programme shows extensive damage by fire across Maungdaw and Buthidaung Townships since 25 August.
Amnesty International's own review of fire data from remote satellite sensing indicates at least 156 large fires in northern Rakhine State during the same period.
These damage assessments are likely to be underestimates. Much of the burning took place during Myanmar's rainy season, so cloud cover has prevented complete monitoring. No such fires were recorded in the same period over the past five years, indicating that this burning has been intentional.
"Given their ongoing denials, Myanmar's authorities may have thought they would literally get away with murder on a massive scale. But modern technology, coupled with rigorous human rights research, have tipped the scales against them."
The Commander-in-Chief of the Myanmar military, Senior General Min Aung Hlaing, has, apart from two days, been in Myanmar since 25 August. Among other things since then he has posted on his Facebook page that he "honoured" the military's "brilliant efforts to restore regional peace". People with intimate knowledge of the military's ongoing campaign in northern Rakhine State have told Amnesty International that the Commander-in-Chief has had close oversight of the operation.
There is no indication that Senior General Min Aung Hlaing has taken steps to stop the atrocities or ensure accountability for his troops' violations. His Facebook page has instead often included inflammatory posts, including declaring that Myanmar "has no Rohingya race" and saying it was an "exaggeration to say that the number of [Rohingya] fleeing to Bangladesh is very large".
The scale of the current assault on the Rohingya is truly staggering, but Amnesty International has also previously documented war crimes and other serious violations committed against ethnic minorities by troops under his command elsewhere in Myanmar, including Kachin and northern Shan States.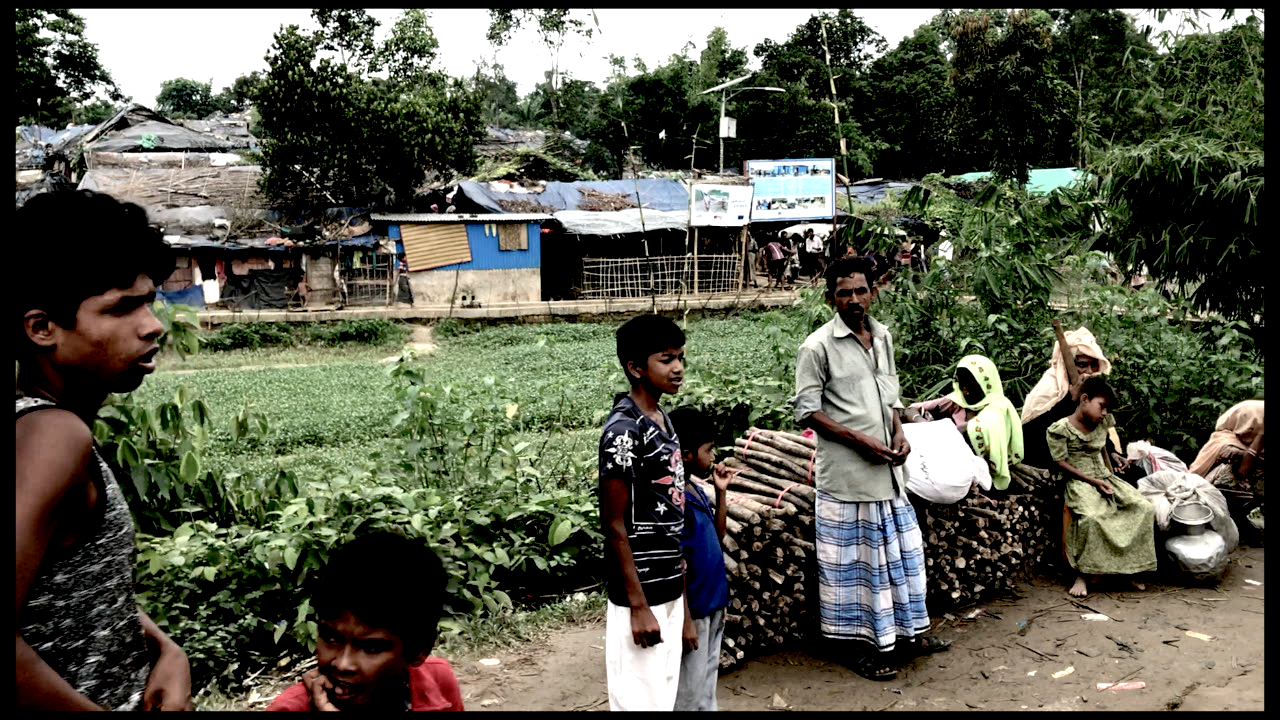 Amnesty International believes it is time for the international community to move beyond public outcry and take action to end the campaign of violence that has driven more than half the Rohingya population out of Myanmar and address its disastrous consequences.
Through cutting off military cooperation, imposing arms embargoes and targeted sanctions on individuals responsible for abuses, a clear message must be sent that the military's crimes against humanity in Rakhine State will not be tolerated.
Rohingyas who have fled to Bangladesh must be provided with adequate conditions and safe asylum. Those refugees who wish to return home to Myanmar have a human right to do so voluntarily and with dignity, and the same holds for those internally displaced within Rakhine State. To achieve this, the international community must pressure Myanmar to end, once and for all, the systematic discrimination against the Rohingya which provides the backdrop to this current crisis.
Stop the ethnic cleansing
Meet Senior General Min Aung Hlaing, Commander-in-Chief of the Myanmar Army and the man that has the power to stop the brutal ethnic cleansing in Rakhine State.

Sign the petition and demand that Senior General Min Aung Hlaing:
• Immediately end the military's campaign of violence, human rights violations and crimes against humanity.
• Ensure free, safe and unimpeded access into and inside Rakhine state to UN affiliated and other humanitarian actors.
• Provide full access to UN investigators, independent journalists and human rights monitors and ensure their security.

We will continue to send your signatures to the Chief Commander. We won't stop until the violence stops. Sign your name now.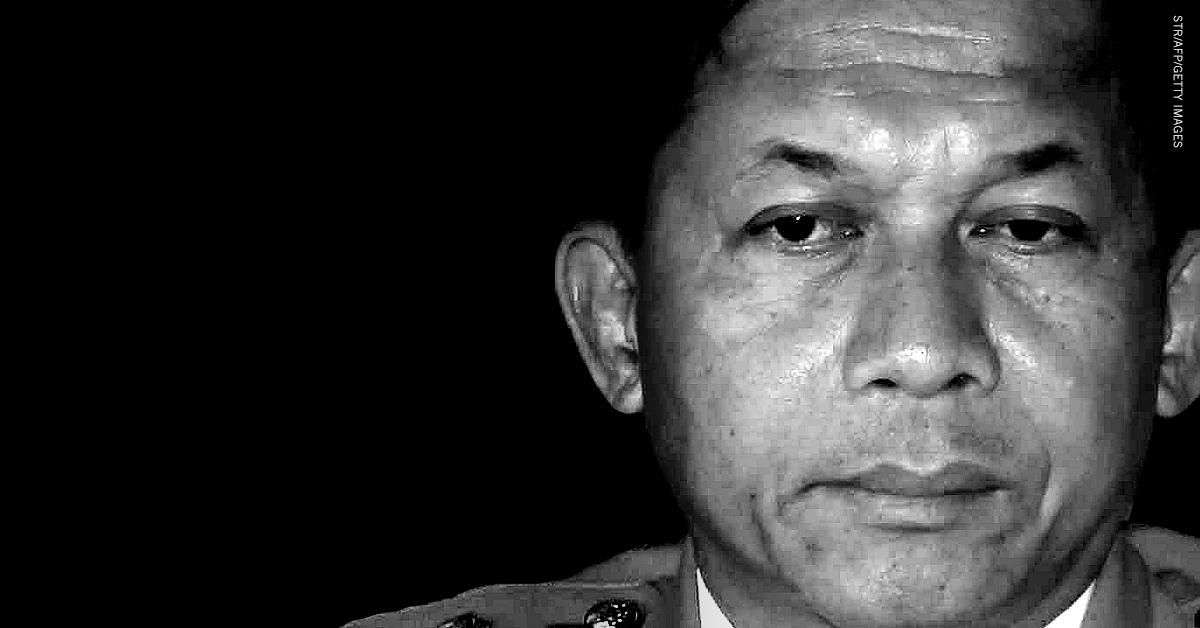 Senior General Min Aung Hlaing is Commander-in-Chief of Myanmar's military. © Str/AFP/Getty Images
Senior General Min Aung Hlaing is Commander-in-Chief of Myanmar's military. © Str/AFP/Getty Images